To describe the 1994 University of Arkansas's NCAA Men's Basketball Championship win with adjectives such as exhilarating, cathartic, or redeeming would serve you little more than what you were already told by a beat writer.
It was Our Arkansas Razorback NCAA Basketball Championship Experience.
On December 1, 1990, as Arkansas' basketball team blistered Kansas State 112-88  in Barnhill Arena, I knew without question a Nolan Richardson coached Arkansas basketball team would seize the NCAA Championship.
Undoubtedly, earlier that year Arkansas finished the 1989-1990 season at 30-5 losing in the NCAA Tournament semi-finals to Duke 97-83.   While fans at the Kansas State game saw a close game until the final minutes, all Championship qualities appeared at once.  In addition to substituting 5-players at a time, moving the ball with every effort down the court, trapping with a smothering defense, scoring double digits within 60 seconds, and playing inside-out ball to perfection, Arkansas players, fans and coaches shed the last vestiges of Eddie Sutton's influence with a killer instinct.
No lead warranted a playing difference.  Our Gestalt was redefined. We no longer considered whether the Arkansas Razorbacks would win, but our focus became the size of the margin of victory.
But we would wait as the basketball elite refused Arkansas elite status.  After losing in '90 to Duke, in '91 Kansas said "no" in the Elite Eight.  In '92, Memphis sent us packing in the second round.  In '93 North Carolina denied us yet another Elite Eight berth.
Arkansans were changed by basketball.  We began to live and breathe, cheer and die with basketball fortunes as we had with football.  January 2nd no longer stood for the first day of basketball season.
After earning a No. 1 seed in the 1994 NCAA Men's Tournament, Arkansas defeated North Carolina A&T, Georgetown, Tulsa, Michigan and Arizona to meet Duke for the National Title.  It wasn't hard to remember that Blue Devils had sent us home before.
After 18 competitive years with rays of hope, we wanted this National Championship for Our Players and Coaches. We wanted it for our players and coaches who hadn't made it this far but contributed so much of themselves to Our Program. We wanted it for Our University and for Ourselves.   To make it to the Championship game, we experienced vindication for Razorback Final Four teams who didn't get there in 1978 and 1990.
At tip-off, Our Razorback players felt our nerves.  Our intensity shown in their faces.  Arkansas fed the ball inside to 6'7″ forward Corliss Williamson who would evoke images of the former domination and struggle in the paint of powerful Joe Kliene and scrappy Charles Balantine with the scoring of Ron Brewer added. As Corliss struggled early, we could see Sidney Moncrief's tenaciousness and Todd Day's intensity take over Corliss.  The Russellville native was a Star for those Stars past.
6'2″ Cory Beck and 6'4″ Clint McDaniel slashed and defended as if channeling Darrell Walker and Alvin Robertson. McDaniel would drive the ball, shoot or dish it to Corliss or kick it outside.  Beck controlled our offensive direction into the paint where Duke's Antonio Lang, Cherokee Parks, and Grant Hill roamed. Clint and Corey's big hearts would overcome Duke's big bodies and talent.  Cory's and Clint's hands defended as if endowed with 6 arms by Hindu gods.  Although they generated only moderate interest in high school from anyone else, Beck and McDaniel willed themselves to be winners.
Driving into the lane, the slashers would find a crease to send the ball outside to Scotty Thurman and Alex Dillard who launched three-point shots, frequently with demoralizing accuracy during the season. This day, though, the few that they hit made all the difference.  Scotty possessed Lee Mayberry's coolness with a replay-smooth stroke while Dillard's long-range shot commanded respect after the half-court line.  Alex had scored 12 three-pointers in a single game earlier in the year.  The two gunners kept Duke running to challenge our outside shots and made them expend energy.  In southern Arkansas and northern Louisiana our brothers called Scotty "son", while Alex Dillard, an old man at 25, was the beacon for parents with children struggling in school.  After failing to graduate high school and later obtaining his G.E.D., he attended junior college and literally shot a basketball to win a college education.
As the first half ran, the Championship Game's intense pace mandated fresh bodies.  Ken Biley from Pine Bluff and Davor Rimac from Croatia provided others with rest.  Neither contributed greatly, but both were deservedly part of the team.  Biley represented those from the eastern Arkansas Mississippi River Delta who faithfully follow the Hogs although frequently not having much more than what they needed.   From Croatia, Rimac stood for those who made Arkansas their Home.
Arkansas's younger players, Darnell Robinson, Lee Wilson, and Dwight Stewart all contributed. Robinson and Wilson were 6'11" twin towers altering shots while failing to live up to their offensive potentials.  Dwight Stewart made inexperienced decisions and his large frame didn't prevent him from stepping outside and shooting a three-point basket, but he possessed no offensive streak this night. These young men played for the future.
Arkansas and Duke battled evenly with Arkansas taking a 31-30 lead at the half.
The second half found an Arkansas squad reminiscent of bygone days. After scoring two points, Hogs haplessly couldn't stop Duke's 13-point onslaught. We crossed the thin line separating team-oriented, up tempo ball and selfish, street ball. Instantly, the 1987 half-court Eddie Sutton team coached by Nolan Richardson seemed to be on the floor and unable to execute at full speed.  We feared for the outcome.
Richardson called timeout with 17:02 to play with Arkansas 10 points down. The Duke student section began echoing "Stuuupid, stuupid."  We wanted to slap around those uppity Duke students.  We deserved to be there.  We deserved to be with the basketball elite.
The reality of defeat and remembering the "grand scheme of things" wasn't far away.  Albeit an important game, we couldn't forget the perspective that for Nolan Richardson and his wife, Rose, our vicarious "lives" were still a game.  During the his first two years at Arkansas,  Nolan's young daughter, Yvonne, was diagnosed with and died from leukemia.  Our players watched or knew his fighting resolve.  Richardson had battled prejudice and naysayers to live "us against the world."  Now WE adopted his resilience. WE were against the weight of the College Basketball World.
Over the next nearly nine minutes, whether at home or at the game, WE stood. WE jumped. WE bit our lips. WE winced at mistakes and volleyed cheers at those yelling "stuuupid." WE scrapped and hustled ourselves out-of-breath with our frantic Razorbacks. WE moved Our Team to earn a five-point advantage. WE unleashed the energy of the throngs of Fans who owned Barnhill South and those in cardinal who shocked the SEC by overtaking the Kentucky Blue at the conference tournament.
With just over a minute remaining, our inexperienced Dwight Stewart shot an ill-advised three-point attempt which missed its mark. Grant Hill made Us pay with a tie game at 70-70.  Time out was called.  Duke players grabbed their shorts.  We sweated and paced nervously.  WE were undeniably a the crossroads of History where we would learn our fate in a few ticking seconds.
The next moments would change Our Population's psyche.  Arkansas inbounded the ball and passed it around and back to our young Dwight Stewart at the top of the key.  Our young man's inexperience caused him to mishandle the ball when, at that instant, his experience revealed, and our youngster passed the ball to his right. As Son Scotty caught the ball some feet behind the three-point arc, Antonio Lang uncoiled his long right arm and struck at the rising ball as the red, shot clock numbers ticked down to one.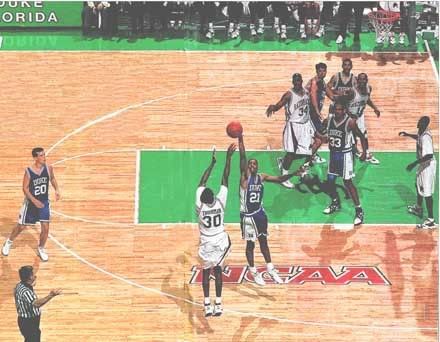 Fists and teeth clenched, WE put all the body english that we could muster to steer Our Son's ball as it cleared Lang's fingertips. Yvonne smiled and looked down with those Razorback Fans who had passed around her.  She colored a child's perfect, high, long-arching Rainbow as Thurman's shot cascaded through the goal's strings.
The game's remaining seconds expired. For all of us, Fanatics, regular Joes, from the Delta, our Louisiana brothers, our adopted, our struggling, our young, our stars, and our Arkansas faithful who played and cheered zealously in bygone days, the Rainbow brought Us jubilance for Arkansas Basketball's New Beginning.
Reference: SI presents A Heavenly Season, A Celebration of Arkansas's 1994 NCAA Title Collector's Edition, Time, Inc. 1994