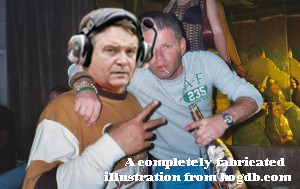 You will find articles today from The Clarion Ledger and others who've discovered that Houston Nutt talked to Nevin Shapiro regarding the  Miami job in 2006.
Through a little digging we found other references to the date and time.  From FOI Files the entry was made —
12/7/2006 10:17 a.m. -Houston Nutt calls Nevin Shapiro, a Miami Hurricanes booster.
Maybe not their concern and for that matter, not likely ours either, Houston Nutt told Arkansas that he was not interested in the Miami position on November 27, 2006, about 10 days before his conversation with Shapiro.
So what was the connection? Larry Coker, the head coach of Miami was on his way out, and Houston Nutt was hot at the time as a coach.  But is that all that there is to it? It never is. There always has to be a connection somewhere.
***
By Michael McCarthy and Steve Wieberg, USA TODAY
Sexton's Athletic Resource Management in Memphis represents four top coaches in the Southeastern Conference — Auburn's Tommy Tuberville, South Carolina's Steve Spurrier, Tennessee's Phillip Fulmer and Arkansas' Houston Nutt — as well as Larry Coker of Miami (Fla.), Frank Beamer of Virginia Tech, Nick Saban of the Miami Dolphins and the Dallas Cowboys' Bill Parcells.
******
Filling in those details for you, we wondered when the first time that Nevin Shapiro was publicly associated with the University of Miami.  We haven't seen it discovered elsewhere so a little ol' fan site in Arkansas brings it to you first, but Shapiro's zealousness for Hurricane Football is evident in 1992 when Miami beats Florida State on a last second field goal.
About your archives purchase:
Your purchase of articles expires on .
Miami Herald, The (FL)
October 4, 1992
Section: SPORTS
Edition: FINAL
Page: 11D
Memo:FOOTBALL COLLEGE/NFL; See UM-FSU FAN HOT LINE at end of  text
FANS RIDE EMOTIONAL OB ROLLER COASTER
SUSAN MILLER DEGNAN Herald Sports Writer
Nevin Shapiro just couldn't take it any more.
He looked like a caged animal about to be cornered.
He looked like a man in dire need of sleep.
He looked crazed.
And then came the powerful antidote: a 33-yard touchdown pass from University of Miami quarterback Gino Torretta to Lamar Thomas with 6:50 left in Saturday's football game.
UM 17, FSU 16.
Shapiro leaped into the arms of his neighbor, and nearly hugged the life out of him.
He pumped his fists, raised them triumphantly and savored the moment. And as the seconds ticked, it only got better.
UM 19, FSU 16.
"They wrote us off after last week's poor performance," Shapiro, 23, screamed, "but the bottom line is FSU came to the jungle today. THE JUNGLE!  WE ARE THE GODS OF COLLEGE FOOTBALL!"
Alan Amdur, who watched the game nearby, slumped in relief. UM's Hecht Athletic Center is named for Amdur's grandparents, Florence and Isadore Hecht. His father, Neal, is the president of the Hurricane Club. He was feeling quite queasy for most of the game.
"This day," Amdur said softly, "has been a roller coaster of pain." That pretty much described the feelings on both sides of one of the most intense rivalries in college football, a rivalry that filled the Orange Bowl Saturday with 77,338 spectators — most of them in a frenzied state.
You can bet UM season-ticket holder Deborah Greenberg ended the day celebrating. She began it pacing back and forth in front of the Orange Bowl, wearing orange and green and hoisting red, white and blue. Her placard read "Bill Clinton for President." Her T-shirt read "Excellent National Champions '83-'87-'89-'91."
An angry FSU fan briefly editorialized as he swept past Greenberg. "He's a loser, just like Miami," the man snarled. "He's a winner, just like the Canes," she snapped.
Someone asked Greenberg if she had to vote for the Canes or Clinton, who would it be? "Oh my. What an awful decision," Greenberg said with a pained expression. "If I say Clinton, my husband would kill me. And to tell you the truth, I couldn't bear the thought of the Canes losing."
It was enough to make Tony Halaska, a lieutenant with the Broward Sherriff's Office, feel proud of the great big bald spot on top of his head. Halaska took off his rich green Canes cap to reveal the letters U and M painted between strands of hair.
"It's great to get away from the everyday garbage," he said.
Sorry, Bobby
A message to Bobby Bowden: Doesn't that kick look familiar?
Victor Calero, Homestead
Proof positive. Bobby Bowden can't win the big game. Miami is the luckiest team in the history of team sports.
Mike Tambureau,
Plantation
UM can beat Washington any day of the week.Chad Daniels, Miami
Final score: Miami 19, FSU, ACC and Bobby Bowden 16: The curse lasts.
John Torres, Hialeah
Officials under fire
I cannot believe they missed those two clipping calls on the opening kickoff. I can't believe they called a penalty on the kicker for tripping. It is unreal.
Juan Carlos Valdez, Miami
The ACC referees are up to their old tricks. If Miami has a signed contract with FSU, I don't understand how the road team can bring their referees into the game. It's hard enough playing 11 against 11, but we're playing 11 against 17.
Henry Stewart, Aventura
Why aren't the referees calling the clips? They're missing all the clips.
The first FSU touchdown the referees missed a clip. The referees should be suspended.
Les Castro, Miami
Copyright (c) 1992 The Miami Herald
Read more: http://nl.newsbank.com/nl-search/we/Archives?p_action=doc&p_docid=0EB347AD58A81C19&p_docnum=94&s_accountid=AC0111082205441320161&s_orderid=NB0111082205385623483&s_dlid=DL0111082205442120179&s_ecproduct=DOC&s_ecprodtype=&s_trackval=MH&s_siteloc=&s_referrer=&s_username=attycda&s_accountid=AC0111082205441320161&s_upgradeable=no#ixzz1VjZVRuNR