Alabama played a hellava game in Fayetteville.  Congrats.  Ingram is stronger and more durable than McFadden was in college although Ingram's breakaway speed does not appear quite as explosive.  McElroy is Mr. Steady, Mr. Efficient.  Trent Richardson is a good back but not an even trade with Ingram.  Both sides of the line are rock solid, and the Alabama defense is good but not imposing.
Stepping back and taking an honest look at the game, the difference was Arkansas' inability to punch in a touchdown and settling for a field goal in the third quarter compared to Alabama's touchdown in the first quarter. Otherwise the chart would resemble an anagram.  Quarter by quarter the scoring was as follows:
| | | | | | |
| --- | --- | --- | --- | --- | --- |
| Score by Quarters | 1 | 2 | 3 | 4 | Score |
| Alabama | 7 | 0 | 7 | 10 | 24 |
| Arkansas | 10 | 7 | 3 | 0 | 20 |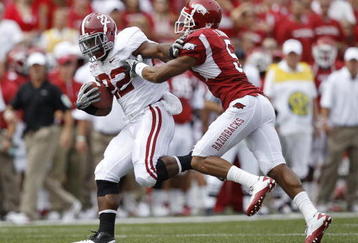 Joe Robbins/Getty Images
Although a detailed explanation can be found in another post, the reality is that the experience of over 800 regular season SEC games since 1992 tells us that it is really difficult to win with few than twenty-four points and difficult to lose with more than twenty-eight points.  Alabama made the threshold, and Arkansas did not.
For those Tide Fans who want to claim superiority on offense or defense, one number stands out the most, 421.  421 yards was Alabama's total offense which comprised of 227 yards net rushing and 194 yards net passing.  Coming into Fayetteville, the Crimson Tide averaged 542 total offensive yards per game. No. 10 Arkansas v. No. 1 Alabama: 50 Cool and Must-Have Stats and Facts covered many others.  But to say that Alabama's running game and offensive scheme is far superior to Arkansas' passing game or scheme, you need to look somewhere else than Alabama's 421 yards of total offense.  Arkansas' total offense for the game was 421 yards as well.  Arkansas managed 421 yards with 357 through the air and a net of 64 on the ground. The difference in offenses and defenses through four quarters was simply a matter of efficiency on one drive.
Other stats from the game were identical or nearly so.  Net punting yards saw Alabama with 39.0 and Arkansas with 38.7.  Both fumbled the ball once, and neither lost a fumble.  Both had four drives into the red zone, and both scored three times.  Both hit all field goal attempts and PATs.  The penalty yards were 47 and 45.  Alabama logged 2 sacks while Arkansas logged 3.  Both teams had seven players with receptions. Both quarterbacks completed passes at nearly the same rate as they had in the previous three games.  Mallett's completion rate was 67.4% through three games and 65.8% against Alabama.   McElroy was at 68.9% through three games and 69.2% against Arkansas.
Through 4 games Alabama averages 511 yards per game while Arkansas reels in 468 yards per game.  With its 65 points against Duke, Alabama is averaging 39.5 points scored per game while Arkansas has scored 31.5.  Arkansas gives up an average so far of 297 yards while allowing only 14.5 points per game.  Alabama through 4 games gives up 295 yards per game and permits just below 10 points per game.
On the field, the difference between No. 10 and No. 1 was four points which is the only stat that really matters.  After the college football polls, Alabama ranks No. 1 and actually increased the number of votes it had to solidify its position, and Arkansas ranks No. 15.   Through four games, either Alabama is not the best team in the nation, or Arkansas is much better than No. 15.  The latter is probably the truer statement.